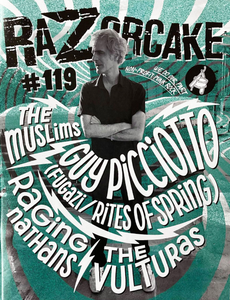 Razorcake
Razorcake #119 (Jan 2021)
Razorcake 119, featuring Guy Picciotto, The Muslims, Raging Nathans, and The Vulturas
Cover by Éric Bricka
Photo by Kathi Wilcox

Guy Picciotto: Interview by Daryl Gussin
The Muslims: Interview by Rosie Gonce and Donna Ramone

Raging Nathans: Interview by Kevin Dunn

The Vulturas: Interview by Martin Wong and Todd Taylor

Donna Ramone knows that only the lonely know this feeling ain't right. (instagram)

Jim Ruland gets elected to kick out the jams. (instagram, website, twitter)

Lorde Jayne takes home the gold in the Genital Olympics (instagram).

Sean Carswell gets dyspeptic in the dystopian dipshit reality. (instagram)

Rev. Nørb reads the liner notes to the cake mix. (instagram, website)

Puro Pinche Poetry: Gritos Del Barrio (Edited by Ever Velasquez (instagram) and Eugenia Nicole (instagram)

From:
I Am That Poet

"I graffiti stanzas
on walls. I steal ideas
from books. I light palm trees
on fire to create
visual metaphors. I am
that poet."

–Nikolai Garcia

RoQue Torres and the metro (instagram)

Michelle Cruz Gonzales loves the smell of pomade in the morning (instagram)

Art Fuentes knows that the piggy peed himself. (instagram, twitter)

Jamaica Dyer gets mindful. (instagram)

Rhythm Chicken covers John Cage and takes the ruckus to the (mad) max. (instagram)

Designated Dale gets in the van with the road crew.

Danny Andrew is not his friends, not his brother, or father (instagram).

And photos from the lovely and talented:

Chris Boarts Larson (instagram, facebook, website)

Rachel Murray Framingheddu (instagram, website)

Dan Monick (instagram)

This issue is dedicated to the memory of Leslie Hartman.
All copies of Razorcake at Dan's Silverleaf in Denton, TX are free in her memory.

---
More from this collection