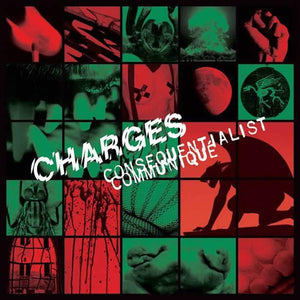 Charges
Charges - Consequentialist CommuniquŽ 7"
Like many music scenes, Atlanta can be quite an incestual place. Run through the rosters of many of the city's local bands and you'll find a lot of overlap in the members. Sometimes it seems like we are a scene made up of side projects and marriages of opportunistic convenience. While this no doubts engenders the kind of cliqueish atmosphere that turns some local music fans off, the other side of the coin is that it helps foster deeper musical ties and a more substantive sense of community. Atlanta punk outfit, Charges, is yet another product of our tightly-knit scene. Featuring members of established local acts 40 Hells and Authors Apology, the five-piece play restless, high-energy punk powered by scuzzy guitars and crashing drums and made unique by the addition of a fuzzed-out Farfisa organ. The organ's distinctive pitch, classic and carnivalesque, lends Charges' music a psychedelic '60s garage rock vibe that sits well with their scruffy melodic punk and Mick Winters' razor vocals. It's hard-charging (no pun intended), uproariously fun stuff, perfect for maximum pint pounding and unabashed fist pumping. -Moe Castro/Latest Disgrace Download
"Will You Be Mine?"
from Latest Disgrace ATL Side A:äóÂ Leave the Blade BloodyäóÂ Face Time Side B: äóÂBelieve ItäóÂ Will You Be Mine?
---
More from this collection