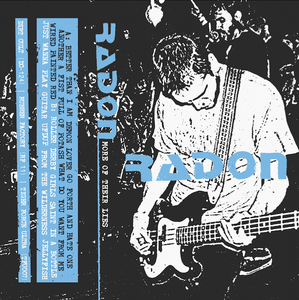 Rubber Factory
Radon - More of Their Lies cassette
A willful longevity coupled with unerring velocity. That's Radon. Oh, and an earnest-as-hell sense of discontent weaving among a wry sense of humor that never comes off as heavy-handed. That's Radon too. Smart, catchy as hell, nuanced. When Dave Rohm sings on "Go Forth And Hate One Another", it sounds very much like an encapsulation of what we've witnessed over the past few years, this fevered fracturing of the country: "Faith and honor, let's all read our books and hate one another. Creed and color, fly our little flags and blame one another. And I'd like to teach the world to sing in perfect harmony but they'd rather see it explode." Thankfully what turns out to possibly be their most pointed album (I hesitate to call it political) is also delivered with Radon's signature catchiness. Couple that with songs about traveling, roller derby girls, playing guitar, depression, forgiveness, fucking up, and more, it's like the twelve years since their last full-length has focused the band, and made them better rather than hindered them..

More Of Their Lies shows Radon with a slightly revamped line-up, this time siding up alongside members of Panthro UK United 13, War On Women, and even Japan's Worthwhile Way to get the job done. It also shows they haven't missed a step; this one's a worthy – hell, vital – addition to their discography.

A co-release between Tiger Force Ultra, Rubber Factory, and Dirt Cult, the 13-song cassette version of More Of Their Lies comes with full-color artwork, a download code, and a vinyl sticker, with a first pressing that's limited to 150 copies.
---
More from this collection