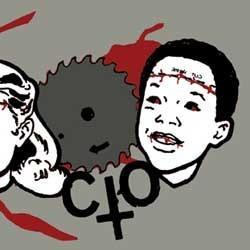 A389 Recorrds
Countdown To Oblivion - Discography 12"
The discography includes :
"Death Rattle" Demo (A1 to A9)
"Starting Fires" split 7" with They Live (B1 to B3)
"Brain Surgery For Beginners" 7" (B4 to B7)

COUNTDOWN TO OBLIVION: Discography: LP Step back a little over ten years ago and marvel at how fast time moves and consider all the changes. Formed in 1998, this Canadian gang of thrashers (members of the Swarm One Blood, etc.) put out a demo, and two EPs (one a split with They Live) in the early part of this century. Their style was a mix of hardcore punk with some metallic elements (especially in the guitar riffs and some solos). A mix of Born Against, powerviolence and Y2K thrash, which was when these guys formed. The songs are fast, well executed, and the lyrics are sarcastic, but with a point, often critiquing the punk scene, as well as the insecurities and absurdity of society at large.
The structure and riffs in "4 Alarm Fire..." is insane; a lot of near tech metal riffs, and there's a crunching main riff that makes the song awesome. Comes on red vinyl and packaged in a gatefold cover with liner notes, as well as a separate lyric sheet. äóñMatt Average /razorcake (A389, a398records.com)
COUNTDOWN TO OBLIVION: Discography: LP I'll begin this by saying that Left For Dead was one of the most important bands in my young life, and that Chris Colohan's vocal style, lyrics, and overall approach in those early years left an indelible mark on me. For those who don't know, CTO was one of Colohan's many late '90s/early '00s bands, and while not sounding terribly unlike Left For Dead or The Swarm, CTO ramped up the Euro metal influence and brought a more chaotic vibe to the table.
This record combines the band's Brain Surgery for Beginners EP, the split with They Live, and demo tracks. Remastered, repackaged, and finally seeing the slick release it deserves, thanks to the always classy gentleman that is Dom at A389. Essential shit. äóñDave Williams/razorcake (A389, a389records.com)
Death Rattle
A1

Open Season On Hecklers (Part 3) Laso In Ireland

A2

Spray P.E.C.

A3

To An End

A4

Take It Apart

A5

Poster Children For Family Values

A6

No Brainer

A7

Up In Flames

A8

The Way It Is

A9

I'll Do Anything

Brain Surgery For Beginners
B1

More Dead Kennedys (a.k.a. Single Bullshit Theory)

B2

Poster Children For Family Values

B3

Four Alarm Fire At Lockport Gambino Ford

B4

The Way It Is

B5

Take It Apart

B6

Spray P.E.C.

B7

The Fest Sex I Never Had
gatefold album, red vinyl, with insert & history by Chris Colohan
---
コレクション内の他の商品