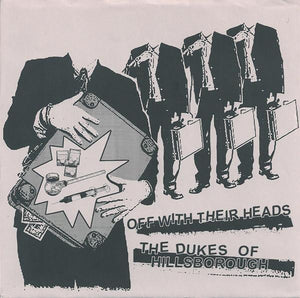 A.D.D.
Off With Their Heads / The Dukes Of Hillsborough äóÁ—çíëí?_split 7"
1st pressing: 500 pressed (1 purple, 6 yellow, 10 red and black, 83 black, 200 green, 200 red).ξ
(not in stock)
2nd pressing: 500 pressed (500 black).
(in stock)

Tracks A1 and A2 recorded December of 06 at the Devils Workshop in Minneapolis.
Tracks B1 and B2 recorded Feb. 07 at Atomic Audio in Tampa. 2007
Released with lyric sheet.
---
コレクション内の他の商品