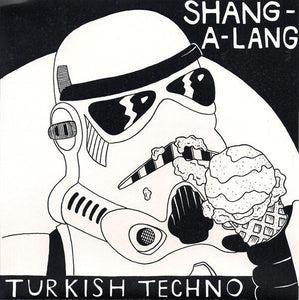 Muy Authentico
Shang-A-Lang / Turkish Techno split 7"
SHANG-A-LANG:
Waiting for the End: 7"EP
Review by Todd Razorcake
Fuck you, funeral. Fuck you, wake. Fuck you, death. Fuck you, swan song. Goodbye Shang-A-Lang. Never liked your charming, shambolic, honest, inclusive music anyway. I never thought you were the musical equivalent to a T-shirt that lasts for years and years and fits better with every wear. Fuck you, Shang-a-Lang. Las Cruces punk rock gets its collective face tear tattooed at the passing of one of its defining bands. I've got the feeling that we'll be lacing on happy shoes soon, as these guys are too insuppressible to give up on playing musicäó_ Oh, hello Low Culture. You played Ben Snakepit's wedding? Rad. Want to go in on a twelver with me? äóñtodd (Dirt Cult plus five other labels) comes with download.

---
コレクション内の他の商品