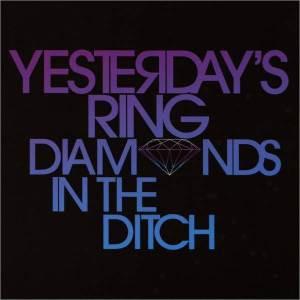 Yo Yo Records
Yesterday's Ring - Diamonds in the Ditch 2xLP
(Exclaim)
What started as a two-man side project for a few dudes from the Sainte Catherines has grown into a musical beast on this, the third full-length record from Yesterday's Ring. Where past releases were mid-fi affairs that earnestly captured the softer side of a bunch of bearded, tattooed punks from Montreal,
Diamonds In The Ditch
is a fully-realized, lush-sounding record that eschews the conventions of folk punk, offering a collection of songs that are punk by pedigree but pure rock'n'roll in execution. Accentuated by horns, piano and gang vocals, tracks like "Quebec City Blues" manage to stay tasteful and relevant in the face of some big arrangements, utilizing an undeniably huge sound, rather than being buried by it. Opener "Moving Out (To Florida)" could have been a Lucero song in another life, while "Scrabble Strip Club" taps into the darkness of
Nebraska
-era Springsteen and mixes it with the grittiness of Montreal's dankest punk dives. "Punx Not Dead... It's Just Sleeping" is this record's high-water mark; it's the kind of song that combines the misdirected anger of a 15-year-old hearing Black Flag for the first time with the world-weary skill of a guy who can play banjo and loves Steve Earle.
This used to be a side-project and it's pretty clearly been upgraded to a much more serious endeavour. How does a change like that happen?
Guitarist/banjoist Ryan Battistuzzi: I guess it's the theory of evolution. What began as a simple duo, just acoustic guitar and vocals, kind of morphed. On the last record we introduced drums and bass, and it became something else. We played live shows, things got heavier, distortion got reintroduced, the songs all changed and here we are.
2xLP comes with download card
---
コレクション内の他の商品