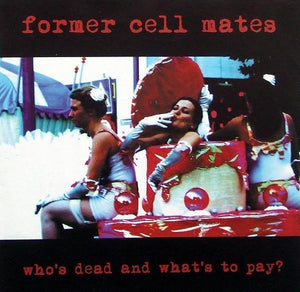 Poison City
Former Cell Mates - Who's Dead and What's to Pay
"A well rounded rock 'n roll album for an old fart like me. Davey channels his inner soul singer and can slow it right down to mid tempo American bar rock that's as catchy as the best pop punk out there. There are still remnants of the 'dude rock' years that cut right through with screaming wahwha solos and up tempo staccato Leatherface-like riffs." -J
from Ox Fanzine,
translated from German
Was there just really what with Leatherface in info? In fact, David Lee Burdon formerly of Leatherface and Frankie Stubbs is on "Who's Dead And What's To Pay?" as a guest honor. The stakes are therefore quite high and I am eagerly awaiting the first sounds.
And no, I was not disappointed. "Party tricks" rocks endlessly going on, slightly reminiscent of MOTí_RHEAD with a bit more punk rock. The next song not tarnish the image, set the accents times more on rock than punk, melancholic sound wonderful and incredibly captivating in the fast in the quiet passages.
Great strides vocalist / guitarist / songwriter Burdon seems therefore to have not been removed from his former band. Although the comparison is close, have FORMER CELL MATES not needed him far, he is still only a rough direction, the range of FORMER CELL MATES with rock'n'roll and blues parts is quite more ambitious.
To put it in a nutshell, there are four bearded men in their thirties with a penchant for intense and biergetrí_nktem (punk) rock, with "Who's Dead And What's To Pay?" have delivered a masterpiece."
this is the Poison City Records (Australia) version
---
More from this collection