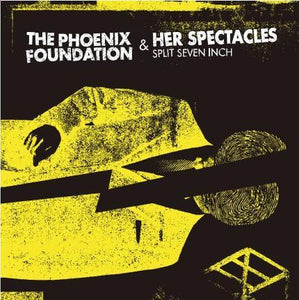 Unsane Asylum
The Phoenix Foundation / Her Spectacles split 7"
1-9 These Days 2003 put out by Combat Rock Industry (Finland) and Newest Industry (Wales). This is the NI version. ships flat

"Finland's The Phoenix Foundation hail from Turku, Finland and play rough yet catchy punk rock in the spirit of Husker Du, Leatherface, Manifesto Jukebox and HDQ...The CD version includes extra tracks, which are the three amazing songs "Don't Be Fooled By My Smile", "What Can I Say?" and "Seeds" that were only previously available on their debut 7". The 9 other tracks on the CD version of the album are all brand new, recorded in March 2003 at Red House Studios.
The band's second full-length album, 'Falling', was recorded for Combat Rock Industry in 2005.
1

Did I Expect Too Much?

2:33

2

Words

2:25

3

You Wiped The Tears From My Eyes

1:46

4

It Won't Rain Everyday

1:38

5

Someday

2:45

6

Clouded Eyes

1:26

7

Sometimes I'm Best Left Alone

1:14

8

Home

1:30

9

These Days

2:55

10

Don't Be Fooled By My Smile

2:19

11

What Can I Say?

2:17

12

Seeds
---
More from this collection