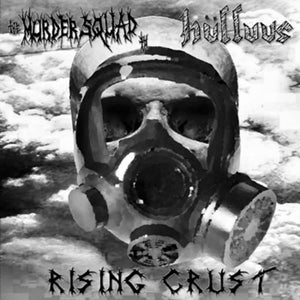 Wounded Paw
The Murder Squad T.O. / Hulluus - Rising Crust cd
Canada and the United States will square off when two of North America's best underground crustcore bands meet head on with the release of Rising Crust, the split CD from Toronto's Murdersquad t.o and Wisconsin's Hulluus. Both bands have set their amps on destroy for what will undoubtedly be one of the most punishing releases of 2005.
Carrying on in the tradition of the infamous Despite, Hí_lluus is downtuned political d-beat crustcore. Hailing from Pleasant Prairie, Disconsin, Hí_lluus is itself an international effort between Canada and U$A with Rayny and John, ex-members of the Posers from Windsor, Ontario, and Marvin and Bob DK, ex-members of Despite, Urbn DK, Eracism, present members of People Again (Milwaukee) and Self Destruckt (Kenosha). (Wounded Paw)
Tracks
The Murdersquad t.o.
1. Another Day In Hell
2. Relationship Of Bacteria
3. More Blood Will Flow
4. Destructive Not Productive
5. Here Today (Nausea)
Hulluus
6. Hour Of Wolves
7. Bombraid
8. Condemned
9. Black Tomorrow

Equalizing Distort
Here is the latest recording by MURDERSQUAD T.O. The band features Mike Abalienation and Preston Sims of Wounded Paw Records. Mike was originally from Binghamton but he migrated to Toronto and met up with Preston and at first the band wanted to do a tribute to D.O.A. The name Murdersquad is taken from the name of Joey Shithead's hockey team (a fitting tribute. Anyway, I guess the novelty wore off and the band started playing the music that they wanted to play, which was crust (a good stenchy kind that folks from Montreal and Portland can appreciate. The band is inspired by bands like DOOM and NAPALM DEATH and the original UK crust scene over today's crust phenomena. On this recording the band is joined by Karen of the SPAZMZ, but she doesn't sound like she's singing SPAZMZ material. She does sound like Amy from NAUSEA. Interestingly enough the band does a coverof NAUSEA with Karen, but the song they cover is a rare song only found on a hard to find comp called "More Songs About Plants and Trees" released by Allied back in 1991. HULLUUS are from Disconsin and feature members from DESPITE and URBAN DK. HULLUUS go for more of a Swedish crust sound. I'm not saying that because of the scandi sounding name, but that would be a clue. They remind me in sound of Legion666 who are influenced by bands like WOLFBRIGADE, TOTALITAR, MARTYRDOD, RAJOITUS, UUTUUS, SKIT SYSTEM, VICTIMS for influences. A good stenchy pairing for this split and it is exciting to hear new material from MURDERSQUAD for us Canucks.
Nerve Magazine, April 2006
Great title and fine musicianship, but crust just doesn't make it for me. I can't get past the growly vocals and metallic breakdowns. So, it isn't that this isn't good, just that I like other genres of punk more. I'm going to see if I can find someone else to review this, someone punker than me. Any takers? Email me at: chris@punkbooks.com
- Chris Walter
---
コレクション内の他の商品